Department of agrometeorological forecasts, Russian Hydrometeorological Centre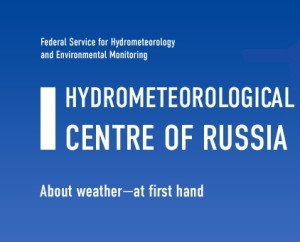 The Hydrometcentre of Russia together with the Main Computer Centre of Roshydromet, the Main Radio-Meteorological Centre and All-Russian Research Institute of Hydrometeorological Information constitute the World Meteorological Centre (WMC) «MOSCOW».
The Hydrometcentre of Russia is an assignee of the Hydrometeorological Research Centre of the Soviet Union, established on the basis of the World Meteorological Centre and Central Forecasting Institute, created on  1 January 1930. In 1996 the Hydrometcentre of Russia was given a status of the State Scientific Centre of the Russian Federation by the government decree of the Russian Federation № 1167.
Principal tasks of the Hydrometcentre of Russia:
Investigation of the Atmosphere-Ocean-Land system for the purposes of hydrometeorological forecasting;
Provision of the population, policy makers and national economy with operational hydrometeorological information, including warnings on adverse and disastrous weather phenomena.
Official web-site: http://wmc.meteoinfo.ru/