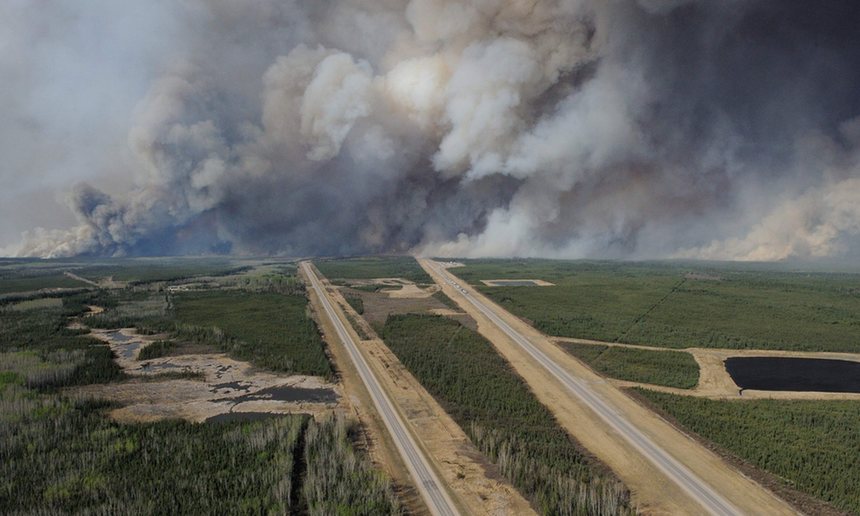 Canada wildfire – what are the environmental impacts?
Source: www.theguardian.com
Photograph: Mcpl Vanputten/AFP/Getty Images
In addition to the estimated $9bn damage to Fort McMurray, 'the beast' will affect forests, carbon emissions, air and water pollution and waste
The explosive wildfire in Canada's tar sands region that forced 90,000 people to flee last week is still burning. By Tuesday, "the beast" had grown to 230,000 hectares, but had moved into largely unpopulated regions east and south of the town of Fort McMurray, Alberta.
Although officials have found 80-90% of the town undamaged, power and water is out, and about 2,400 homes and other buildings have been burned down.
Fires in Canada's boreal forest are common, burning an average of 2m ha every year. What makes this one unique is its intensity and location in the heart of the tar sands fields.
In addition to the estimated $9bn damage to Fort McMurray, the fire will have significant environmental impacts:
Forests
"It's an extremely intense fire, the ecosystem will be massively changed," said Ellen Macdonald, a forest ecologist at the University of Alberta.

The Fort McMurray area is mixed boreal forest with aspen, spruce and a lot of peatlands and normally quite wet. It's been very dry in recent years and the fire was so intense the soil is likely scorched, tree roots burned. It will take longer to recover and probably with a different mix of species, Macdonald said.

Despite rains the fire will likely smoulder and have hotspots for months mainly because of the thick peat. In the fall when it usually gets drier, it could flare up into another fire, she said.
Climate change
At a rough estimate, the fire will have resulted in a few million tonnes of CO2 emitted. That compares to Alberta's 274m tonnes in 2014 — the majority of which is from the province's energy sector. CO2 emissions from the fire are not expected to be significant on a global scale "unless a lot of peat burned," said Dr Mike Flannigan, professor of renewable resources at the University of Alberta. "We will have some rough estimates in a week or two," Flannigan told the Guardian.
Air pollution
There is little doubt the fire would have mobilised contaminants, with mercury, other heavy metals and polycyclic aromatic hydrocarbons (PAHs) deposited on trees and soils, making the smoke potentially more toxic than a normal forest fire. Even worse were the toxins released by burning the 2,400 buildings and their contents. There's a lot of stuff like housing shingles, cars, couches and so on that produce a wide range of toxins including mercury, lead and organic compounds, said David Schindler, a retired aquatic scientist formerly at the University of Alberta.
People in Fort McMurray at the height of the fire were likely "breathing lungfuls of toxins," Schindler told the Guardian.
The smoke from the fires has travelled across the US to the Gulf coast, 3,400 km away. Fires are a known hazard mainly because small particles can damage lungs. However little is known how the release of contaminants in fires might play into human health impacts, said Dr Merritt Turetsky of the University of Guelph.
Water pollution
Those toxins are now in the ash. The first good rain will result in a massive "toxic surge" into waterways including the Athabasca river that runs through the middle of Fort McMurray, said Schindler.
There are already a lot of contaminants from oil sands production in the Athabasca river and sediments and the runoff from the fire will only make this worse, said Kevin Timoney, an ecologist at Treeline Ecological Research. While a heavy rain is the only way to extinguish the fire, that would be bad for the river.
"It's very hard to know what the impacts will be on fish and other aquatic organisms," Timoney said.
Alberta officials say they will be taking water samples in the region to measure any changes.
Waste
Toxic ash and mountains of waste pose another environmental challenge in Fort McMurray. Some of this should be remediated and not just dumped in landfills, said Timoney.
The scale is daunting. In 2011 a similar forest fire destroyed 400 buildings in the town of Slave Lake, Alberta. Ash clogged water treatment and sewer systems.
Without electricity for two weeks, more than 4,000 freezers and refrigerators with rotting food had to be disposed of, along with debris cleaned from the streets, and waste from homes, buildings and yards, including fire-damaged concrete from foundations and walkways, vehicles, swing sets and more.