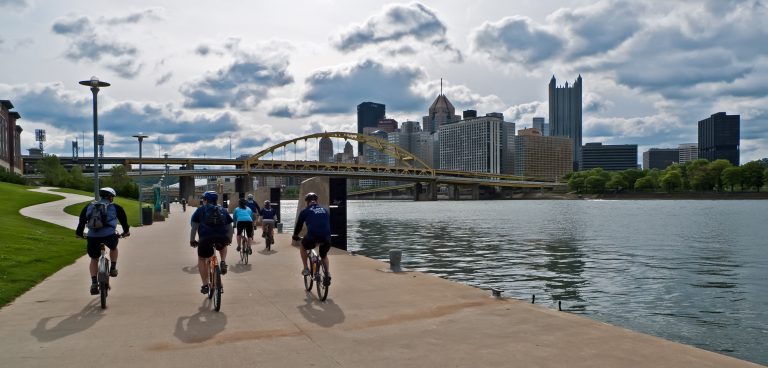 Pittsburgh Transforms from Industrial to Sustainable City
Pittsburgh has been named one of 100 Resilient Cities by the Rockefeller Foundation. Among the sustainability initiatives and commitments of Pittsburgh include achieving a 100 percent renewable energy supply by 2030. Additionally, Pittsburgh has invested $130 million in parks and greenways, adding to the City's sustainability story and assets. Learn more about Pittsburgh and the commitment to a future that balances economics, the environment and equity for all in this guest article by Dr. Aurora Sharrard, Executive Director of the Green Building Alliance.
Source: econewsnetwork.org
"Pittsburgh's "green story" is a remarkable tale still being written about one of the most dramatic environmental and economic transformations in American history."  – Dr. Aurora Sharrad, Executive Director of the Green Building Alliance
The collapse of the U.S. steel industry in the 1980s was a pivotal piece of the city's transition from early manufacturing powerhouse to a new economy founded on education, finance, healthcare, technology, and sustainability.  Pittsburgh's positive trajectory has taken more than 60 years of hard work, including dramatic efforts to clean regional air and water; redevelop brownfields, riverfronts, and neighborhoods; and create new, homegrown technologies and approaches that create a truly sustainable city.
Challenges to ensure that all regional residents benefit from and are not left behind from this continued rebirth remain, as does aging infrastructure and continued environmental degradation of air, land, and water.
In the face of adversity, Pittsburgh thrives, resiliently continuing its journey from industrial to sustainable city on a number of fronts:
Creating a Sustainable City
One of 100 Resilient Cities selected by The Rockefeller Foundation, Pittsburgh's resilience strategy is to move forward as One Pittsburgh across the local "p4" categories of people, planet, place, and performance. The region has long-recognized that environmental health is best achieved through close partnerships, increasing connectivity through physical places, and ensuring that all residents are empowered, with equal access to resources and opportunities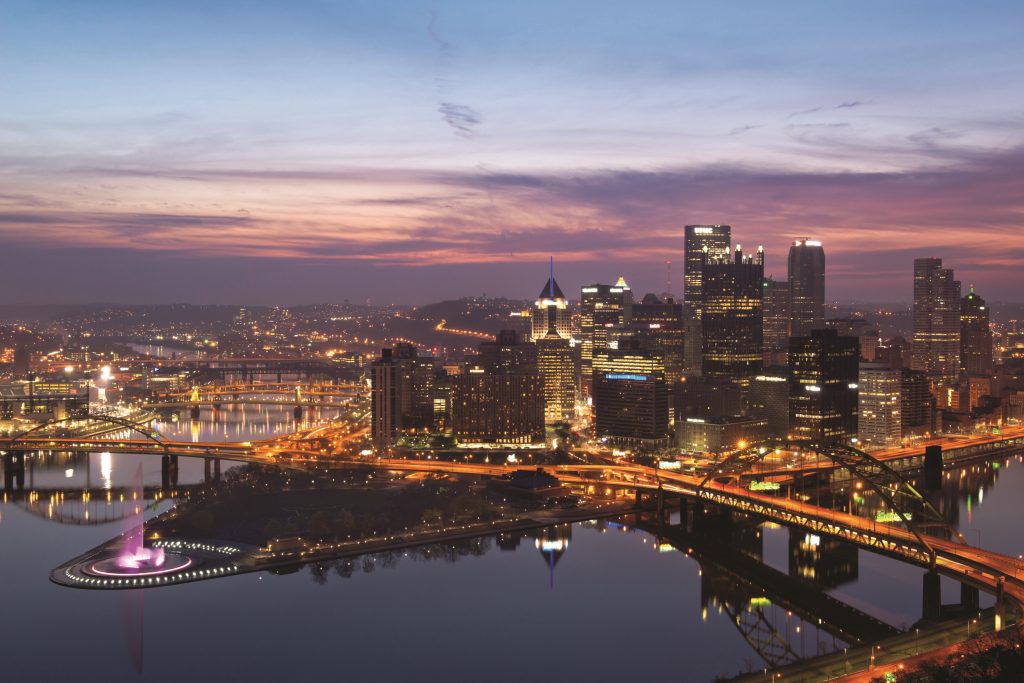 Pittsburgh's resiliency and sustainability efforts align with COP21 targets Mayor William Peduto set for City government assets to achieve by 2030, including a 100% renewable energy supply;  50% reductions in energy consumption, water use, and citywide transportation greenhouse gas emissions; a 100% fossil fuel free fleet; and 100% waste diversion from landfill.  These commitments build on voluntary Pittsburgh 2030 District commitments from 480 buildings to 50% reductions in energy use, water consumption, and transportation emissions by the year 2030. Pittsburgh's 2030 District is the largest of 15 2030 Districts in North America.
Living Buildings in the Heart of Pittsburgh
Pittsburgh was an early green building leader, and is home to one of the world's few certified Living Buildings (at Phipps Conservatory), as well as the new Frick Environmental Center, an urban hub for environmental learning.  Built to and pursuing certification for both LEED Platinum and the Living Building Challenge, the Frick Environmental Center is designed to become the world's first municipally owned, free and open to the public, Living Building.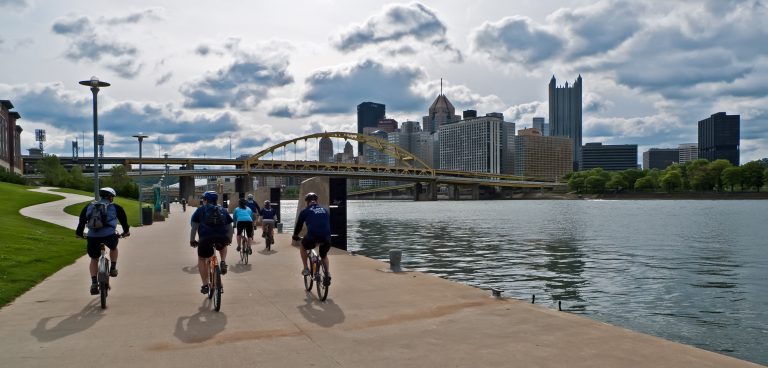 Reclaiming Riverfronts
Once choked by industry, Pittsburgh's riverbanks are still being (re)developed in a way that reinstitutes riparian ecology and increases habitat.
Over the past 15 years, $130 million has been invested in the 13-mile Three Rivers Park, with efforts underway to continue trails and greenways through other neighborhoods. Last year, 660 acres of Hays Wood parkland were added to the City's asset list
(Re)Developing Brownfields
Along the Monongahela riverfront, foundation, civic, and community leaders are collaborating on the redevelopment of "Almono," a 178-acre urban brownfield formerly occupied by LTV Steel in Hazelwood, a neighborhood that employed nearly 13,000 people at the height of the steel industry.  The Almono site master plan calls for a mixed-use development  comprising a blend of housing, offices, research and development, light manufacturing, retail, parks, trails, transportation, and a host of sustainable standards and infrastructure.
West of Downtown Pittsburgh, cleanup efforts continue on 460 acres of coal mining land occupied by Pittsburgh Botanic Garden.  A radical land transformation is underway, involving using passive water treatment system to remove acid mine drainage; removing dangerous highwalls; filling subsidence holes and vertical mine shafts; removing coal refuse; and installing a sludge control system.
Fostering Startups
Reflecting Pittsburgh's entrepreneurial roots, local researchers and startups continue working to solve the environmental and social challenges of our age.  These include companies seeking to create energy from more renewable sources such as WindStax, Thar Geothermal, and SolePower.
Whether people, place, planet, or performance-based, Pittsburgh's green story is permeating the city's approach towards the future – one that seeks to balance economics, environment, and equity for all.
More information on Pittsburgh's ongoing transformation can be found at www.pittsburghgreenstory.com .
Photo credits: Photos provided by Veritas Communications Advisors on behalf of Green Building Alliance