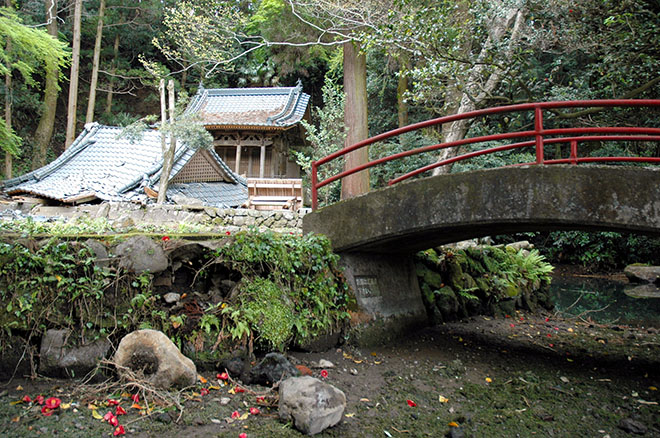 Quake dries up centuries-old Kumamoto water source
Source: www.asahi.com
Photo: Shioisha spring in Minami-Aso, Kumamoto Prefecture, has gone dry since the earthquake of April 16. (Nasuka Yamamoto)
MINAMI-ASO, Kumamoto Prefecture–For hundreds of years, the sacred Shioisha spring here has provided water for drinking and irrigation in this village in the shadow of Mount Aso.
But the fountainhead, which gushed about five tons of spring water a minute, has dried up since the magnitude-7.3 earthquake struck the prefecture early on April 16. Its disappearance has local residents baffled.
"I was absolutely flabbergasted to hear that Shioisha spring has dried up. It turns my world upside down," said 95-year-old Natsuko Goto, who was taking shelter at an elementary school after the earthquake. "What will happen now?"
Shioisha spring is located on the premises of Shioijinja shrine.
According to Sachio Hirose, the 63-year-old parish representative, there are many fountainhead springs in Minami-Aso, which has been dubbed "the village where water is born." However, Shioisha spring is the one that has been worshipped by local residents as the sacred spring where the "god of water" dwells.
Its abundant waters have been a blessing for local rice farmers.
Every year, the planting of rice seedlings starts at the beginning of May in Minami-Aso, but at the moment, there is no water to irrigate the rice paddies, casting a dark shadow over the village and its agricultural production.
"The headspring had been gushing water out for the past centuries and sustaining people's livelihoods," Hirose said. "I can't believe this is happening in my lifetime."