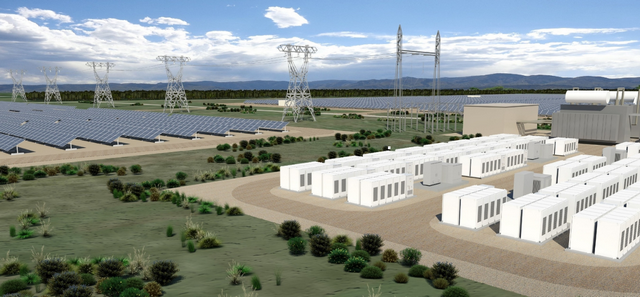 Elon Musk is going to make the sun shine at night with a new SolarCity/Tesla Energy project
Source: electrek.co
SolarCity will produce the electricity, Tesla Energy will store it – and the SolarCity Utilities Services will deliver it to you at night. Recently, Tesla said they would install more energy storage with Solarcity in 2016 than the USA installed in 2015. This morning SolarCity put out two press releases – one announcing the focus on Utility and Grid Services and a second regarding a 13MWAC solar power systems and at least 1.5 megawatts/6 megawatt-hour of storage with the Connecticut Municipal Electric Energy Cooperative (pictured above). Is all of this a warm up to build a (solar)city on Mars?
These two press releases along with prior projects, like the massive 52 MWHr TeslaEnergy project in Hawaii, show that SolarCity is ready to move far beyond residential solar power kits. The massive size of these energy storage projects shows how serious Elon Musk is about batteries, and taking the fight to the fossil fuel companies.
From the Utility & Grid Services press release is evidence of how SolarCity plans to deliver sunlight at night:
Dispatchable Utility-Scale Energy Storage – As a complement to solar power, SolarCity now offers firm and dispatchable utility-scale storage solutions. Our capacity services offering combines solar and energy storage to intelligently take advantage of affordable solar power when it's needed most. Together, solar and storage can help utilities avoid capacity charges and manage peak load more cost effectively than traditional fossil fuel-based solutions.
About two weeks ago the Powerpacks went live on Tesla's website. This system, at 6MWh, would be larger than the website can handle, and – of course – any system designed directly for a power company would need a direct relationship and heavy customization to work within their hardware. This is further evidence of SolarCity, TeslaEnergy and the Utilities working very closely together.
Already, SolarCity does microgrids. When we combine utility scale batteries, with Tesla moving up the goal of 500,000 cars a year to 2018 and learning that the Freemont factory can produce 1,000,000 cars a year – we see why the Gigafactory is being expanded 40% from its original size.
A few months ago we got to see some PowerPacks in the wild.