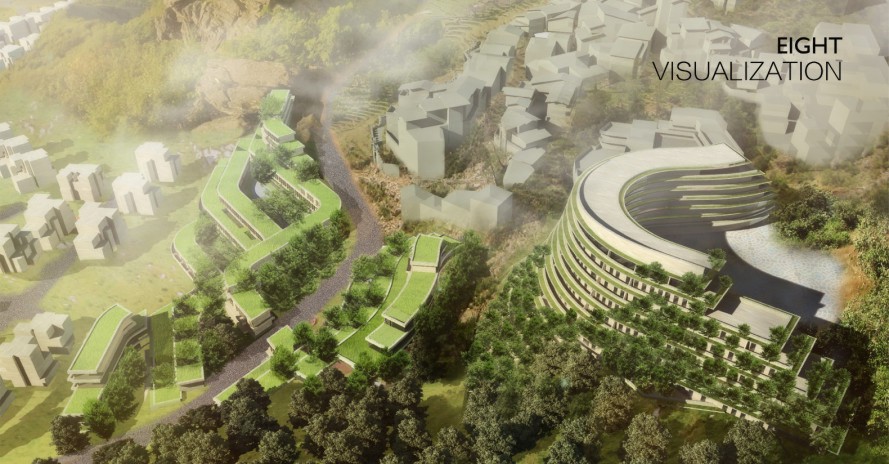 Vertical forest Mountain Hotel will clean the air in Guizhou, China
Source: www.look4ward.co.uk
Environmentally friendly buildings and technologies are getting more than just popular. Thus, after two extremely famous projects of vertical forest creations, Stefano Boeri Architetti has moved further, by taking green design to the whole new level.
The new hotel with extremely fresh air will be located in  Guizhou, China and will consist of around 250 rooms.It will be so green that will actually make the air around the building better. The goal will be achieved thanks to the special system implied in the previous projects – by covering the hotel from the foundation until the roof in greenery.
The Milan based design company has been famous for the first two projects: by creating the world's first vertical forest right in the hometown.
And the second project was a green skyscraper, that actually won a competition on adding Eco-friendly building in Lausanne, Switzerland, which will be completed by the next year.
According to the New York Times, China's Guizhou region is already on the list of "52 Places to go in 2016", claiming that the amount of tourists will increase thanks to the new 20$ billion high speed railway, that made it easier to travel to the next major city, reducing the traveling time from 20 hours to 4, plus the area of Wanfenglin, where the new hotel is going to be built is known as the Forest of Ten Thousands Peaks.
The new hotels and attractions already started to show up in this area, but the new mountain hotel with 250 rooms, gym, lounge, VIP area, bar, restaurant and conference facilities and ability to improve the environment around will without any doubt be in high demand!